Take Control of your Electricity Bills
Emporia Vue Gen 2 is the first Energy Monitor that can detect and measure all energy usage points with a single device & display on your mobile app to save 15 -20% on monthly power bills.
Decode Electricity Bills
No Guesswork, know exactly  where & how your electricity is consumed
Remote Monitoring
Anytime - anywhere - Knowledge of power on your palm in easy to grasp Graphical
Track Everything
Track all energy consuming appliances in real time, eliminate leakage, wastage, misuse or theft
Easy Installation
Emporia  installs inside DP boxes in home, office, factory or retails,  in 30 minutes or less. It's Non Invasive, no wire cutting/rewiring.
Preventive Maintenance
Pre-empt expensive repairs, get alert when an appliance draws above rated capacity. Deep dive recorded electricity data of any appliance to pinpoint problematic areas.
Net Solar Metering
For homes with Solar, Emporia Vue Monitors are capable of monitoring your gross solar production along with Import Export & Net Metering with Grid.
Save Money
As Peter Drukker, famous management thinker said "you can't manage what you don't measure" Emporia Electricity Monitors enables you to analyse electricity consumption of appliances individually, track wasteful consumption, identify appliances consuming higher energy. Such dissected information enables you to take corrective measures including repairs & maintenance.
Thats not just saving 1000s of tonnes of Co2 but money too.
Electricity Monitoring System reduces power wastage and save 15 -25% electricity.
Know More
How Emporia Works
Emporia Vue Gen2 Smart Energy Monitor for India comes with 1 -3 split core Current Transformer (current sensors) of 200A each, the sensors clamps on single/ three phase (live) mains from the meter/ master panel into the distribution panel (DP Box) of home or commercial. Further depending on the option, package has 0-16 split core current transformers (sensors) of 50A each which clamps on load circuits  (typically MCBs feeding individual ACs , Geysers,  Fridge, Pumps etc). CTs are Split Core thus non invasive i.e. No wire cutting, a plug  & play. These sensors connect with Emporia Vue Gen 2 Monitor, which collects the data and saves them on cloud server in real time. Download Emporia Energy App, it will guide the Monitor connection with Cloud server with help of normal home/office Wifi, in a seamless manner. Name the Circuits as you wish to identify the appliance / equipment or room. When done the App will track power drawn from main, by individual appliances ( max sixteen per monitor). No guesswork, In real time.
Know More
Applications
House & Apartments
House & Flats with over Rs 5000 in monthly electricity bills can view precisely where & how the electricity is used. Emporia users know that monitoring their homes saves them 15-20% power. 
Easy plug & play 20 minutes install, non invasive inside DP box. No wire cutting / rewiring required. Emporia Vue Fits Inside the existing DB Box.
Know More
Retails & Chain Stores
Track electricity usage, before, after or during open hours to pinpoint misuse, wastage & inefficiency areas .
CEOs can Monitor multiple stores On the Go, in real time. Flexible & Scalable, Analyse & compare or export deep data for forensics.
Set Alert notification on various usage criteria of whole shop or appliance wise.
Know More
Small & Medium Factories
Be smart factory at fraction of cost associated with energy monitoring systems. Our Monitor comes with 3 - 200A & 8/16 - 50 split core CT sensor for main & load circuits.
Track machinery power consumption with actual production in real time or daily basis. Reduce costly repairs with preventive maintenance. Set notification Alerts.
Download reports for deeper forensics & know your monthly power bills beforehand.
Request a Call Back
Highlights
Net Solar Metering Bundle
Bi Directional Current Transformers of Emporia Vue are capable of monitoring your solar production with Net & Gross Import Export with Grid.
Option to add CTs to Monitor HVAC, Subpanels or any other appliance at fraction of cost.
Interested in monitoring how much energy you are pulling and sending back to the grid, check the link below.
Net Solar Metering
Turn Power into Knowledge
Track energy use in real time! The Vue Energy Monitor doesn't guess what appliances you have. It's connected directly to the circuits you care about, like your A/C, Fridge, Water heaters or solar generation. It monitors them 24/7. You'll know exactly how much energy you're using in real time and historically by the minute, hour, day, week, month, and year.
4.6 Star on Amazon
Outstanding reviews with over 4.5 Star is testament to trust & confidence Emporia Vue Enjoys with tens of thousands its buyers worldwide. Don't just trust our word for it, please check the link yourself.
Smart Monitors for Large Homes & SME
SMART ELECTRICITY MONITOR | 3 PHASE WITH 16 SENSORS

Vendor

Emporia Energy USA

Regular price

Rs. 21,500.00

Sale price

Rs. 21,500.00

incl. GST

Regular price

Rs. 21,500.00

Buy On Amazon

SMART ELECTRICITY MONITOR | METER | 3 PHASE PLUS 8 SENSORS.

Vendor

Emporia Energy USA

Regular price

Rs. 15,900.00

Sale price

Rs. 15,900.00

incl. GST

Regular price

Rs. 15,900.00

Buy On Amazon

EMPORIA VUE SMART ELECTRICITY MONITOR | METER | 3 PHASE

Vendor

Emporia Energy USA

Regular price

Rs. 11,500.00

Sale price

Rs. 11,500.00

incl. GST

Regular price

Rs. 11,500.00

Buy On Amazon
Let customers speak for us
Emporia Smart Electricity Monitor
24/7 Electricity Consumption Monitor
Real-time data - Anytime, Anywhere
Indvidual Circuit Tracking(with 50A sensor bundles)
Net Metering for Solar Generation
Single & Three Phase option(ideal for home and light commercials)
Actionable Push Notifications
Track Electricity usage in real life time with the Emporia Vue Energy Monitor! Designed in Littieton, CO,USA the Emporia is the Smart Energy Management Solution for Homes, Light Industries & Retails that provides 24/7 monitoring of power consumption and generation, including appliances, heating, AC and solar. The Emporia Electricity monitoring system provides insight and assurance by preventing costly repairs, making homes, more power efficient, and saving you money in the process.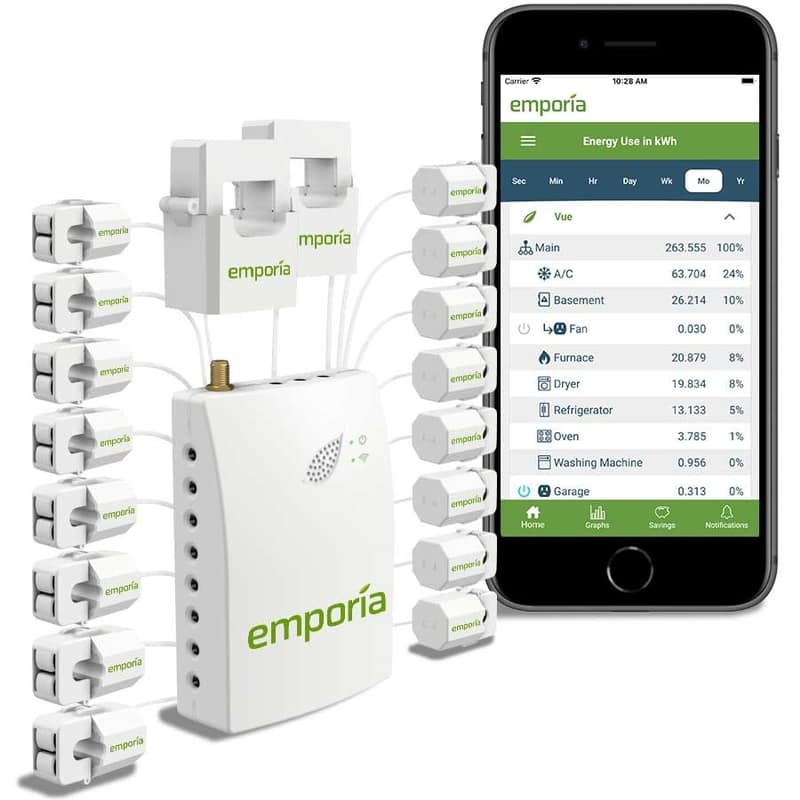 Shop Now
About Emporia
Emporia Energy Corp was launched in 2018 in Littleton, Colorado, USA by a team of developers, designers, engineers & energy geeks.
By reducing customers' energy use and saving them money, Emporia is helping people create a healthier planet and build a brighter future for us all.
Customer satisfaction, an important pillar at Emporia, is reflected by it's extended return - refund policy and warranties.
Emporia Vue Energy Monitor enjoys the highest star ranking on Amazon and is ranked America's No 1 by EZvid https://wiki.ezvid.com/best-electricity-usage-monitors